We love to party as much as you do! Whether it's an outdoor music festival or a conference like our Annual Email Marketing Summit, we'll be there. And we know a thing or two about planning a really great event. It takes ninja-level organization and some serious heavy lifting. After all, those speakers aren't going to move themselves.
Being a party planner can be hard. But it doesn't have to be. We teamed up with our friends over at Eventbrite to bring event management and communication together. Eventbrite handles event management from creating event pages to selling tickets. Vision6 manages your guest-list and event communications so you don't have to.
By importing your registrations and keeping your list up-to-date dynamically, it's never been easier to manage confirmations, pre-registration and day-of-event messages. And with automated email workflows, you can set up a registration series that tells your guests what they need to know when they need to know it.
Saving time and work aren't the only advantages. Now you can send email reminders and text messages to ensure your guests don't miss the party of a lifetime. Want to collect some post-event feedback? No problemo. Vision6 makes it easy to communicate with all your guests before, during and after the party.
Eventbrite is a powerful event planning platform for everything from charity runs to concerts and conferences. Vision6 is the perfect partner with our customizable invitation templates and automated workflows. Together we'll help you bring people together in a way you've never done before.
If you're ready to simplify your event management, here's how to get started.
Connecting Vision6 and Eventbrite  
Step 1: Create your event in Eventbrite
Step 2: Create a kick a#$ custom event invitation in Vision6  
Step 3: Create a new list in Vision6 for event contacts
Step 4: Send your invitation and sit back and relax with that well earned Martini (please add your events responsibly)
Pre-Event Communications
Map out different paths for your guests to set up the right automated email series. It's like a choose-your-own-ending book. Not everyone says I do right away. In fact, there's probably a lot more Last-minute Lucys than we care to admit. And that's why it pays to send an email invitation series to drive ticket sales through the roof.
Build anticipation with pre-event messages that get your guests excited. You only have one chance to make a first impression, so get creative with your event announcement. Try sending a few follow-up messages to those who didn't open your first message. They say we need to hear a message 7 times before we take action, so keep knocking.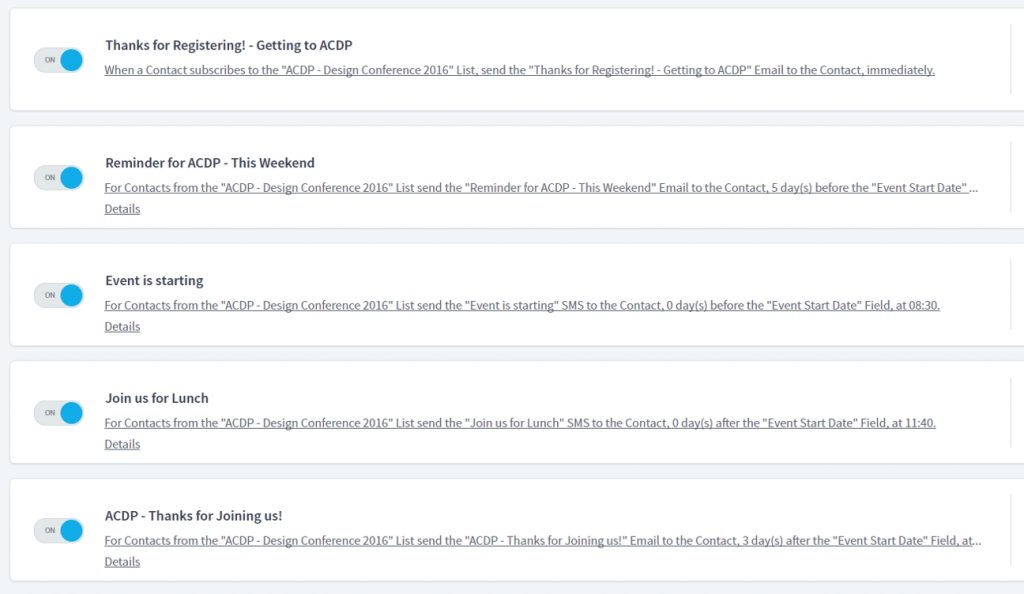 An example of an automated email workflow
During-Event Communications
Once your guests are in-like Flynn, don't forget to confirm their registration and include the where and when. To keep the event momentum going, try sending:
Post-Event Communications
If you really want to delight your guests next year, you can work on your psychic skills… or you can try asking them for some feedback. Try a post-event survey and ask them what they'd like to see next. Consider sharing exclusive event audio tracks or presentations to show your guests you care.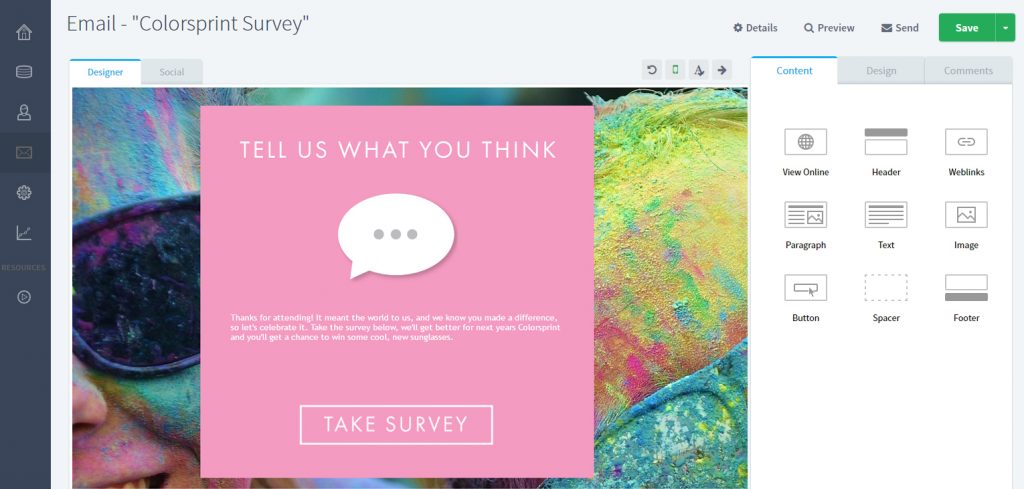 Start planning your next sold out event
This is a big step forward, and we hope it makes your event planning and promotion so much easier. Choose from one of our many customizable HTML event templates and set up your first event in minutes! To learn more about the Vision6 Eventbrite integration register for our webinar.