Every year Scott Brinker of ChiefMartech releases the marketing technology supergraphic that contains just about every marketing technology known to man. It's hard not to feel overwhelmed with the fast growing selection of technologies and categories. The selection has grown from a mere 150 companies in 2011 to over 4000 companies in 2016.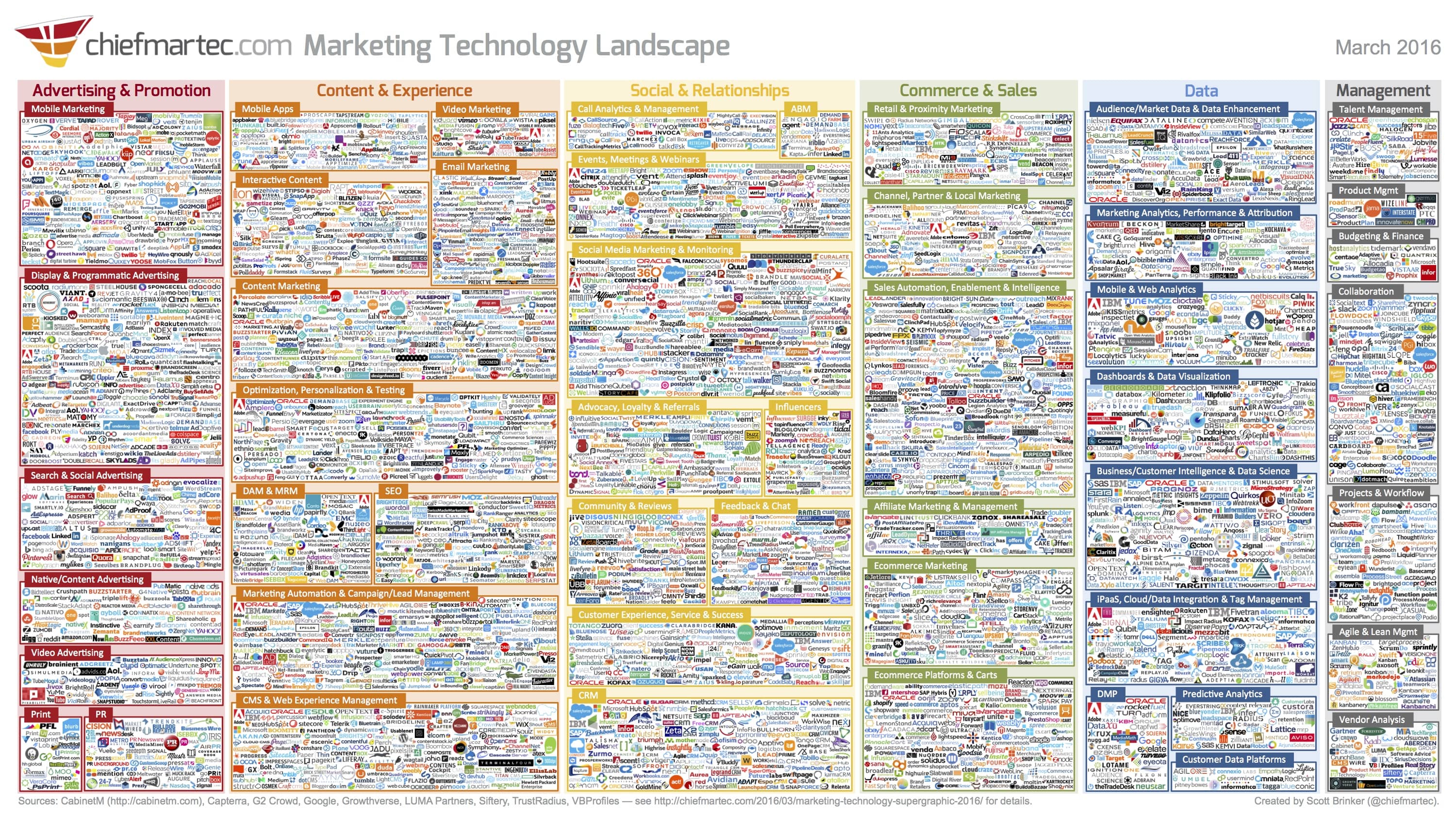 Traditionally the responsibility of managing the technology budget fell into the hands of the IT department. But this is no longer the case. Marketing now has a budget line item dedicated to software technology, designed to help the marketing team achieve the best results possible.
The characteristics of your stack will depend on the nature of your business, if it's B2B or B2C, the size of the marketing team and budget, as well as your goals and objectives. To help you out, we have put together our recommendations for our favorite marketing technologies. While not an exhaustive list, we hope this provides you with some of the basics and inspiration to get started:
Analytics and Tracking
Google Analytics is a free tool that you can use to measure the performance of your marketing campaigns. We use our Vision6 Google Analytics integration to track the ROI of our email, social media, and advertising campaigns.
We also use MixPanel to understand the behaviors of our subscribers. One of the main strengths of MixPanel is that you don't need to have a technical or analytics background to report on data.
Design
Canva is a great tool for any marketing department to create everything from infographics to social media posts to e-guides and everything in between. Canva has to be the simplest, easy to use tool for non designers on the market, we love it.
We also rely heavily on image sites such as Stocksy and Death to the Stock that always have fresh images that don't look like cheesy, overdone stock photos.
Social Media
At Vision6 we use Hootsuite to manage our multiple social media accounts, including LinkedIn, Twitter and Facebook. Using a social media management platform is great for staying organized as we can plan out posts weeks in advance across all networks, which is a big time saver for our Social Media Manager. In addition, we can monitor keywords and track our success from one dashboard.
Email Marketing Software
Vision6 is listed in the email marketing category in the marketing technology supergraphic.
Of course we are a little bias but we truly believe have the best email marketing automation technology needed for marketers and agencies.

Content Management
WordPress is probably the most popular content management system in the world, so no surprises that we also use it to run our website. It's so easy and flexible to use that the marketing team can make updates without any reliance on development. Plus with our integration it's easy to collect subscribers from your WordPress.
Our media production team, highly recommends Wistia for hosting and sharing your business videos. At Vision6 we rely on Wistia for our Guides and Tutorials.
Productivity and Collaboration
Managing workflows and ownership of content creation across distributed teams can be challenging. For all our marketing production workflows we use Trello. It's great for keeping track of progress, assigning tasks and it's got a really easy to use interface.
Want even more marketing technology inspiration? Check out the chiefmarktec infographic or feel free to get in touch.