Event planners have one main goal: to create a great experience that is sure to sell out. So we teamed up with Eventbrite to help our customers make that happen. Eventbrite are the experts in ticketing, we're the experts in communication. With the Vision6 + Eventbrite email integration, you can expand your reach and create sell out events.
Once you've linked your Eventbrite event to your Vision6 account, your attendee list will be instantly available and will continue to update in real-time. And with automated email workflows, you can set up an email and SMS series that tells your guests what they need to know, when they need to know it.
With Vision6, you can attract more guests with hundreds of beautiful invitation and email designs to choose from or create your own using our simple drag-and-drop editor. Take advantage of our SMS functionality and automation tools to build a multi-channel campaign and boost engagement leading up to your event.
You can also keep a close eye on recipient activity through user-friendly reporting and, once the event has passed, continue the conversation to get more people to your next event. So how does it work?
Before the event
Your event attendee is a customer, so like any good marketing campaign, you should start with their customer journey in mind. Map out the path your attendee will take before, during and after the event so you can ensure you have all the right touch points at the right time.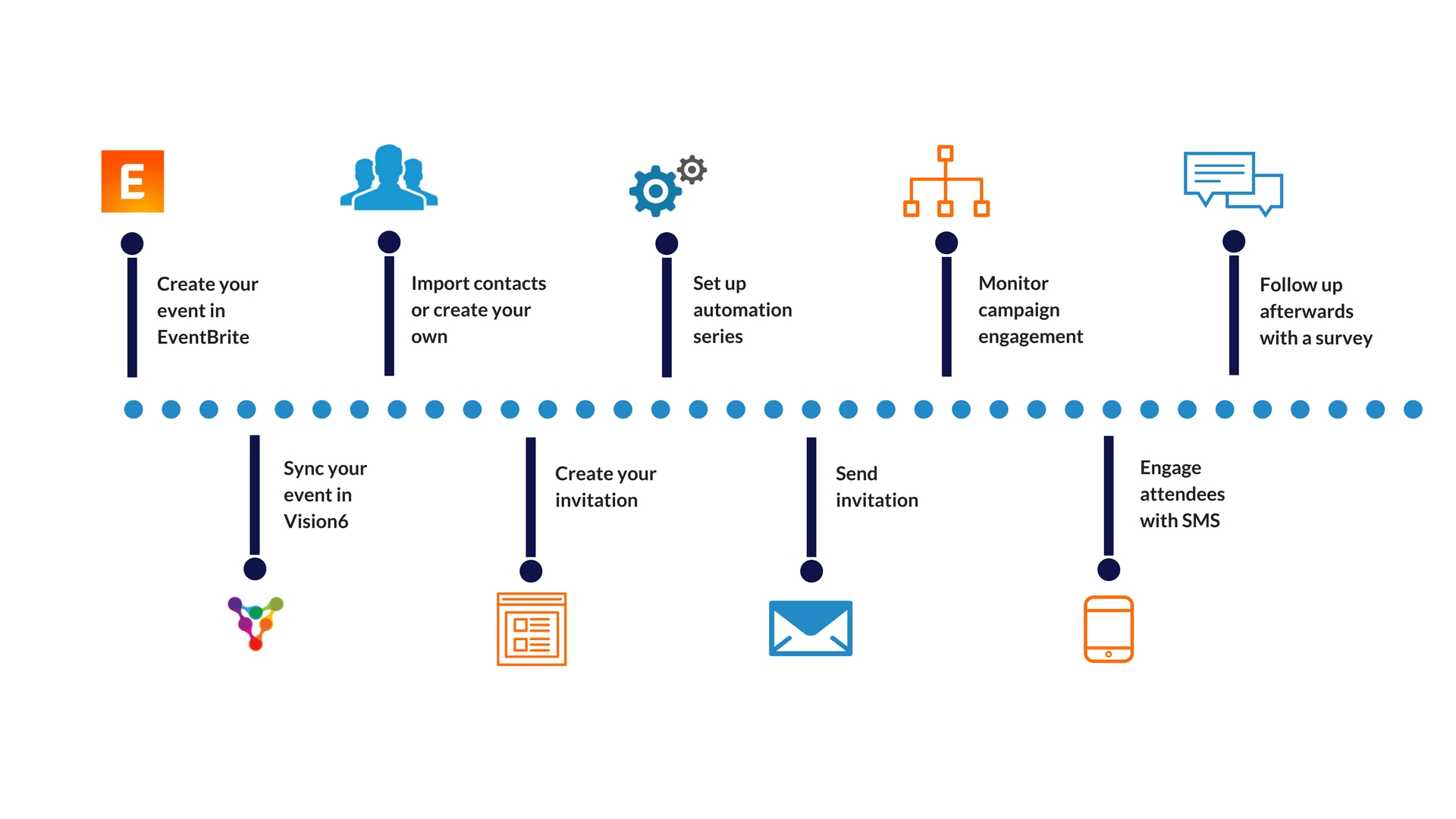 Some common touch points for event marketers are:
Event invitation with a link to your Eventbrite page
Follow up email – those who didn't open the invitation
Early bird ticket – announcement
Early bird ticket – last chance
Last chance to secure tickets to event
Content relating to the event to boost engagement
Day before – need-to-know info
After the event – follow up survey
After the event – content sharing / upcoming events
There are plenty of touch point opportunities, but it is important to consider what is right for your audience and event. Too little and you may lose engagement – too frequent and you will annoy your readers and risk unsubscribes.
Once you have mapped out your touch points, setting up an automation series in Vision6 is easy. You can learn more about setting up an automation series on our customer support page.
During the event
While email is an effective communication tool leading up to the event, nothing beats SMS on the actual day. Make sure you ask your attendees for their mobile number when they register for your event so you can provide quick updates to them during the event.
Reminders can be automated for different times throughout the day so your attendees know exactly where they need to be and when. Get creative with your SMS notifications – perhaps you have a competition running or would like to share mini-communications to your guests to add to their event experience.
After the event
There's no need to go your separate ways once the event is over – stay in touch with your guests to grow your community and increase numbers at your next event.
Ask your attendees about their experience and what they'd like to see next time. You could share exclusive material such as audio or video from the event, presentations or other supporting content that shows your attendees that you value them. Ask your recipients to update their communication preferences so you can reach out to them in the future with content that they are interested in.
And finally, make sure you take time to gather your marketing campaign reports and attendee feedback so you can measure the success of your event. Celebrate your wins and look at where you can improve next time.
Ready to get started? Learn more about using the Vision6 + Eventbrite email integration or if you're not on the Vision6 platform yet, sign up for a free trial and send your event invitation today.