In 2017 digital agencies are still turning to email marketing. So should everyone trust email marketing? Heck, yeah. And here's why. It works. Email marketing is the best way to deliver big results. We sat down with Matt Haynes founder of Analogue Digital to learn why he still loves email marketing and here's what he shared.
1. We own our contact list
Ownership is a powerful thing. When you own something, no one can take it away from you. And that's the beautiful thing about email. It's a channel that the brand will always own. So growing your database list is essential for long-term success.
As a communication tool, social media is popular. It's a great way to engage fans and build a community. But if it changed tomorrow where would you be? What would happen to all of those Twitter followers and your Facebook fans? Relying too heavily on channels you don't own is a risky move.
2. Email can do cool sh*t
Email is a brilliant way to manage processes like events. Look at our big annual event The Design Conference. There's a lot of heavy lifting to do for communications to ensure a smooth event starting with early-bird sales and promotion. And we just don't have enough people power to manually touch each guest several times.
So we've figured out how to work smarter. We've created automated email workflows to deal with registration, reminders and even post-event surveys. As digital marketers, there's no limit to what we can achieve with email automation. It sounds a little nerdy, but it's actually really cool.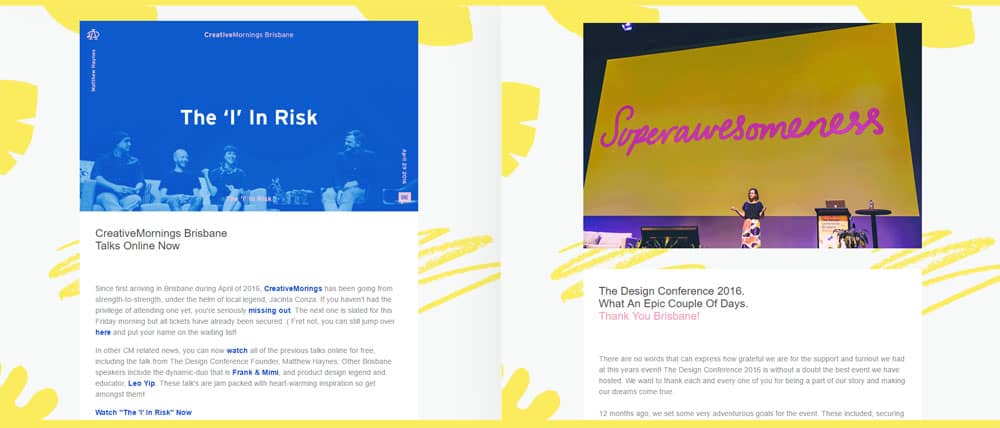 3. Good emails can still drive attention
Our motto is simple. We write content in a way that our readers want to receive it. They pay attention because we've spent a lot of time figuring out who they are and what they want. And that makes it easy for us to be ourselves – ultra personable, fun and entertaining.
Email marketing has been around for a long time. It's a mistake to think it has to be boring. When you combine awesome copy and tone with amazing videos and images, the results can really knock your socks off. If you do it right, it's one of the best tools to build engagement.
"Any other thoughts before we call it a wrap?"
If you're serious about email marketing, find a good partner that can help you take your game to the next level. We love the team over at Vision6 because they totally get us. They have an intuitive product that allows us to spend more time being creative and doing what we love, while getting serious results for our clients and ourselves.
Give them a whirl. You won't be disappointed!