When a customer purchases your product, it is just the start of their relationship with your brand. And, what you do next is going to determine the longevity and fruitfulness of this relationship.
But where do you start?
Enter customer onboarding – a well-thought-out welcome plan to guide your customers towards success. Customer onboarding is an end-to-end process that educates customers about the benefits of your product or service. It also guides them on usage and set-up as well as provide ongoing support to help them achieve the promised results.
Effective onboarding leads to happier and satisfied customers. It addresses the two main reasons for customer churn: customers don't understand your product OR customers don't get the desired results.
With a comprehensive onboarding plan, you can show long-term value and prevent customer churn, leading to faster growth and higher revenue. Here are five proven strategies to create a customer-centric onboarding process to boost your customer onboarding experience and loyalty.
1. Match the Onboarding Process to Your User Persona
Knowing your customers is the first step to winning over their hearts. That's why it is important to match your onboarding process to your buyer persona. This will help you identify the key pain points of your audience and address them effectively.
Of course, you may already have your buyer personas ready which is great. However, during the process of designing the onboarding experience, you need to focus more on the demanding customers or the ones raising the most support tickets. By communicating with these customers, you may uncover deep insights or issues that you hadn't thought of earlier. So start by identifying the most difficult customers. Next, speak with them to gather as much information as possible. Use this information to build cohesive buyer personas that will eventually help you design a better onboarding flow.
2. Use Multiple Types of Content to Connect With Customers
The whole point of onboarding is to acquaint users with all the features of your product. Thus, the flow of your onboarding process will depend on the specific needs of every user. Keep in mind that you can't force a user to watch a video or read a blog. However, the onboarding material should be made readily available to your users so they can gain access when they wish to.
We like to use the term "autonomous onboarding", to describe an onboarding process that empowers users with all the resources they need to onboard, on-demand. This calls for a standardized flow to guide the users to set-up and help them figure out what they need and where they can find it.
Step-by-Step Guide
Now as you already know, you don't get a second chance at making the first impression. That's why it is essential to make a connection the first time you communicate with a customer. We have outlined a few steps for you:
A 'Welcome Email' is a great way to get your relationship with a customer off the ground. Thank them for their purchase, and let them know how much you appreciate having them on board. Also, add in a line reassuring them of continued support.
Next, prepare a greeting message that will serve as an in-app welcome message to greet users on their first login. This message should also encourage users to set-up an account.
At this stage, you may even like to add a video tutorial to help simplify the product set-up. However, it is recommended you keep this video optional as users may want to skip it or revisit at a later date.
Use empty states with actionable content to explain various features after the first login to encourage users.
You may also use various UI features like tip banners or feature call-outs to introduce important features to new users. Another idea is including interactive walk-throughs in your UI to promote learning by guiding users to the next steps.
Lastly, don't forget to integrate a knowledge base on your site so users can access helpful information to solve problems before they even arise. This same knowledge base can be used to train your chatbot for speedy customer service.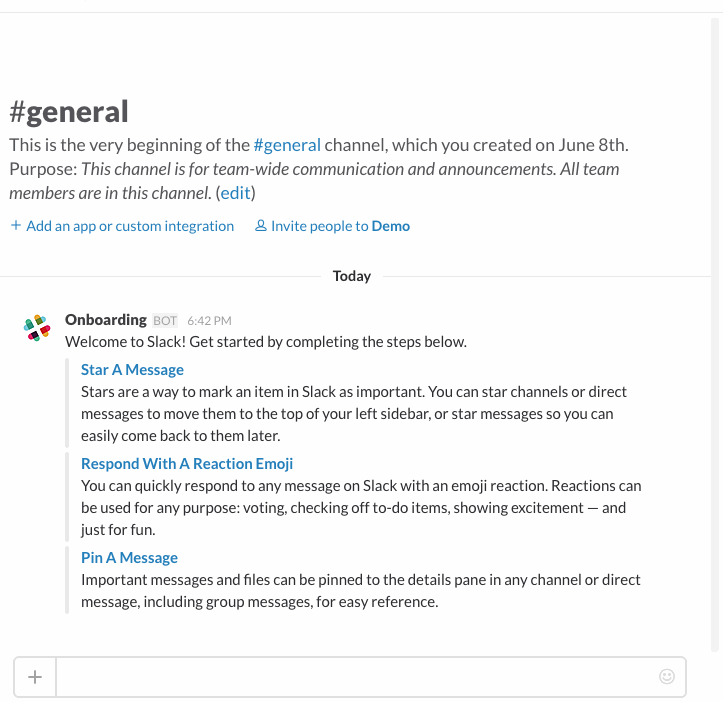 3. Use Cobrowsing for an Immersive Onboarding Experience
Cobrowsing technology enables agents and customers to interact with each other on the same web page in a secure environment. With cobrowsing, your agents can view a customer's webpage to solve complex queries through real-time, personalized interactions.
Besides query resolution, cobrowsing can also elevate the onboarding process through on-screen product demos, interactive walkthroughs, and even enabling remote meetings with a higher degree of collaboration.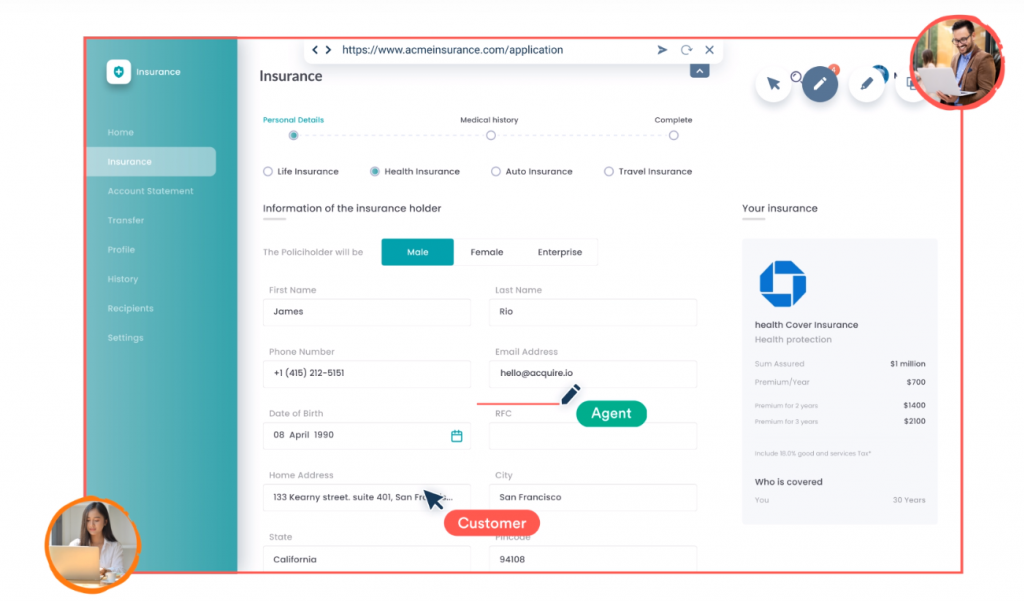 4. Breakdown Internal Silos for a Holistic Experience
Who handles onboarding new customers in your organization? Is it the customer support team? If yes, it's a folly you must rectify at the earliest. The onboarding experience must be designed to address the pain points of your customer base, and the support team isn't equipped to do this on their own.
Ideally, onboarding should be a cross-team responsibility, with the sales, marketing, and support teams collaborating to design delightful customer journeys. Of course, there's technology to the rescue in the form of customer support platforms that can integrate with your CRM and analytics software to generate insightful results that can be used for customer mapping.
5. Listen to Your Customers
Feedback is a gift, and you can use it to your advantage to improve your existing processes. By building feedback loops like regular surveys into your customer interactions, you can gain essential insights and improve your service quality.
Start by understanding how your customers prefer to be contacted while creating an omnichannel support system that delivers consistent and seamless service. You may also use Net Promoter Score (NPS) surveys after a user completes onboarding to gauge their satisfaction level. For more in-depth insights into the onboarding process, try a customer effort score survey by posing a simple question like – "How easy was it for you to get started with XYZ?"
You may also use chatbots to collect feedback from customers during an active session with minimal disruption to their browsing experience.
Conclusion
Customer onboarding is a process that starts when a customer contacts you for the first time. As the customer moves along the sales funnel, you can collect more information about them at every stage. This information can be used to design a customized onboarding flow and improve the overall customer experience. With different teams involved at various stages of the customer journey, it would be wise to turn customer onboarding into a team process while ensuring an omnichannel experience for customers to get the best results.