Did you make a mistake while sending an email to your customer database?
Are you looking for professional examples of apology emails for your business?
Then you are in the right place!
Here are some examples of how brands apologised to their customers for making a mistake and did it like a pro:
Stay on brand
The team over at Adore Beauty accidentally sent their database an expired campaign, so the next day they sent this email. By keeping it on brand, they speak to their audience as their best friend would. Aw, don't even worry about it – apology accepted, Adore Beauty!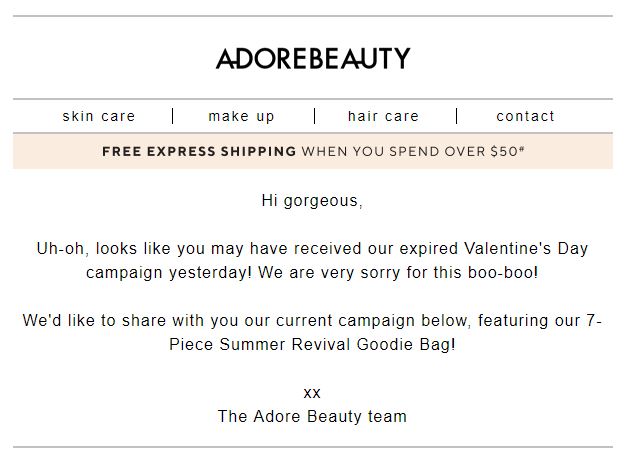 Our friends at Wistia are a genuine and friendly bunch. They've kept their apology light-hearted and even threw in a photo of a dog to make you forget they even made a mistake. Well played, Wistia.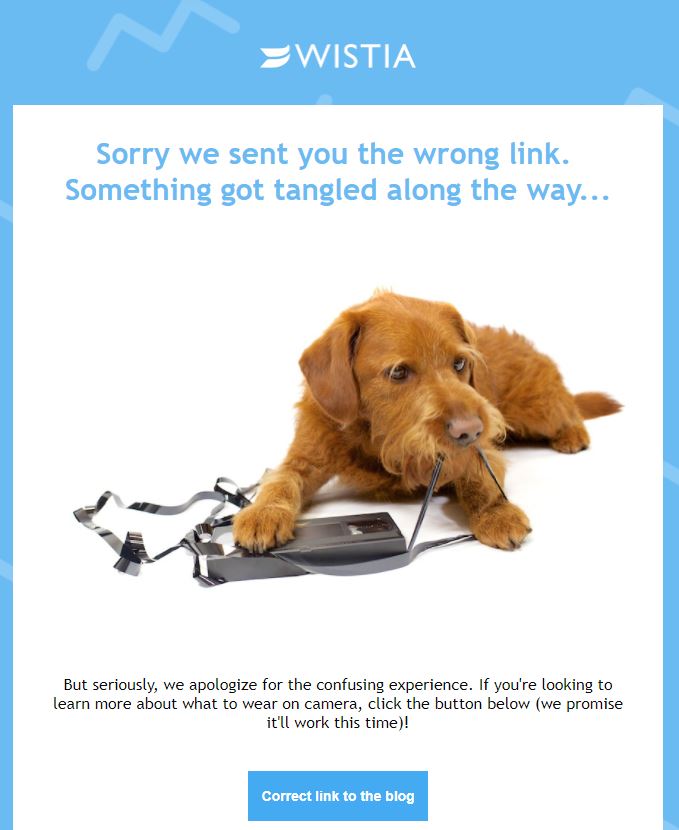 Be honest
Totally forgot to send one of the most important wrap-up emails of the year? Pfft, no biggie, according to Really Good Emails. Just shoot out an apology and link to your awesome article.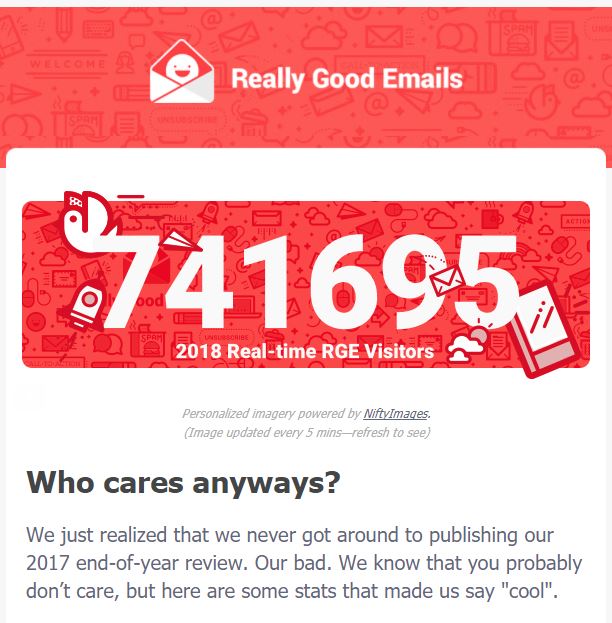 Focus on the positive
The team at 99designs kept their apology brief and kept the focus on their 10 year anniversary discount offer.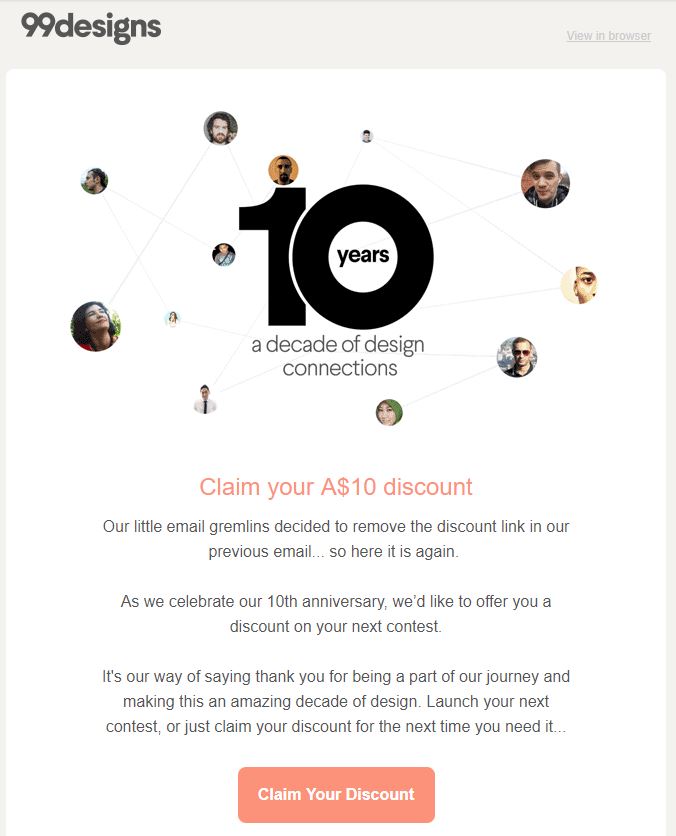 Woolworths Rewards focused on their original message as well, hyping up the offer rather than the error.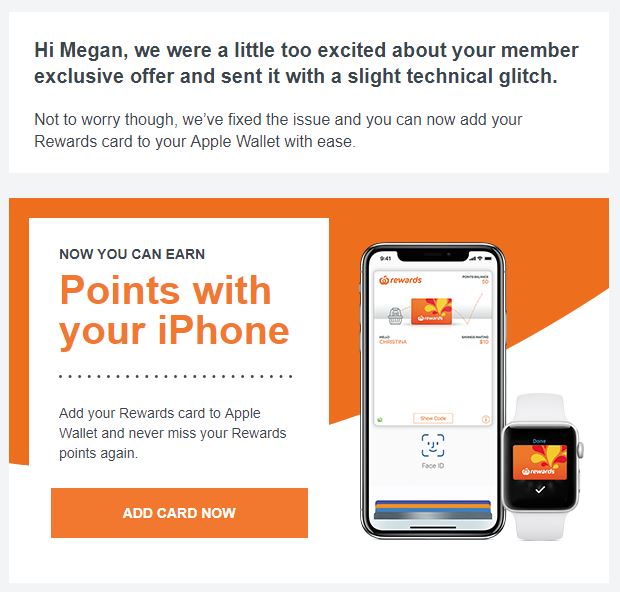 Do it quickly and clearly
While mistakes in emails are usually things like broken links or a spelling error, there are cases where you could be exposing yourself to false advertising complaints. A few weeks ago, JB Hi-Fi sent a follow up email almost immediately to recipients who were sent a "20% Off TVs" campaign with one particular TV model that shouldn't have been there. They rectified it quickly and clearly to minimise confusion for their customers.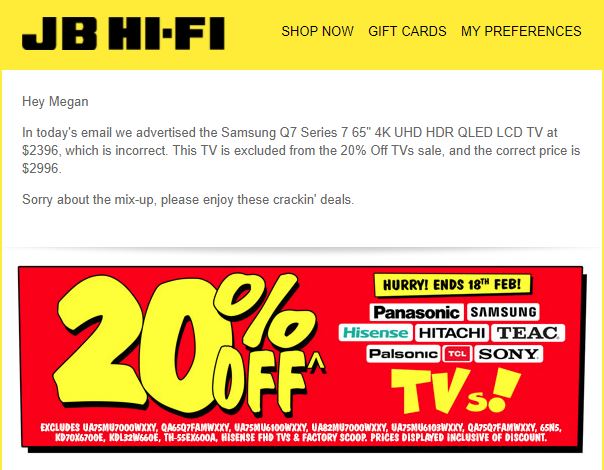 Remember, we're all human
Personalisation and automation are amazing, but they rely heavily on clean data to work their magic. With this example, something has gone awry and the email was addressed to the wrong person. Woolworths humanised the error and made sure the personalisation was correct the second time around. The copy makes the email read like a one-on-one apology from Woolworths direct to Skye, but it is easy to do with the right email marketing software.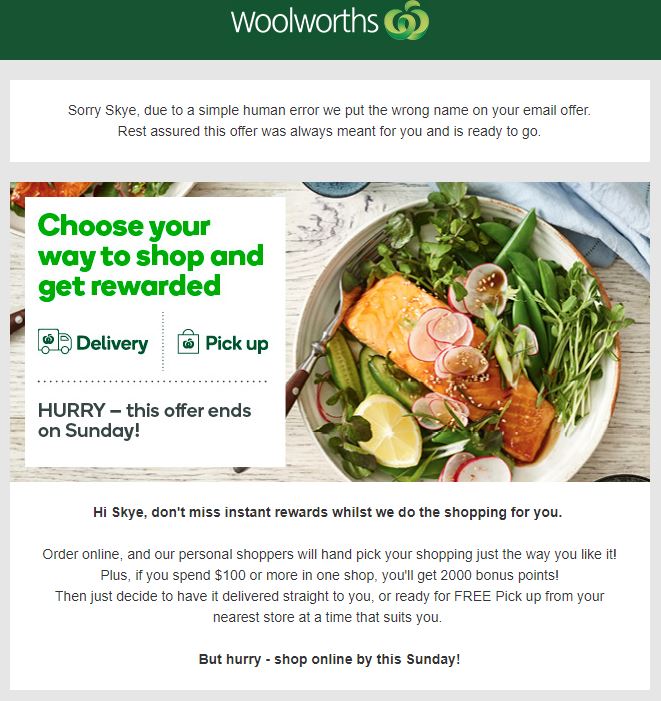 Everyone makes mistakes, but you can minimise them by having a great email checklist in place before you hit send. But if all else fails, send an apology email like one of the above examples and you'll be just fine.
Apology email templates by Vision6
Check out these beautiful apology email templates available to edit inside Vision6.
Template 1 – Whoops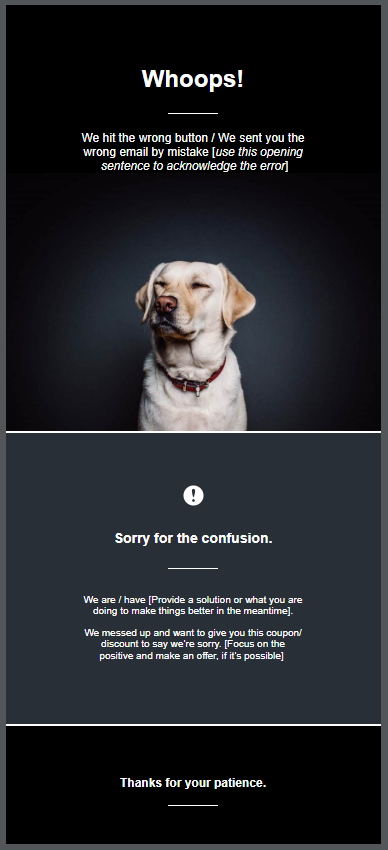 Template 2 – Uh- oh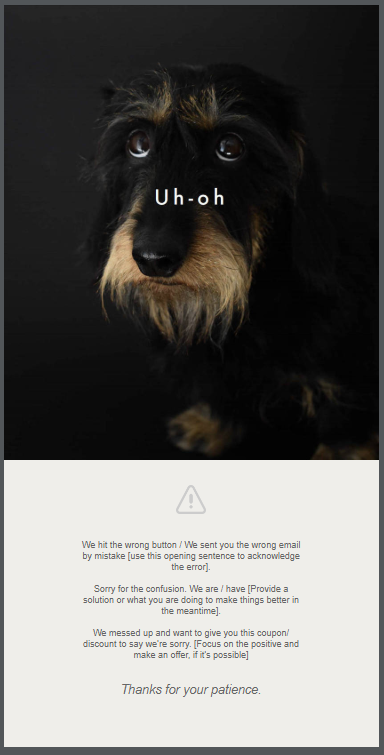 Template 3 – Sorry
These templates include pre-filled (apology) email copy to save you time and are absolutely free to use. So, what are you waiting for?
Start free with Vision6 now and create beautiful emails using our template library.