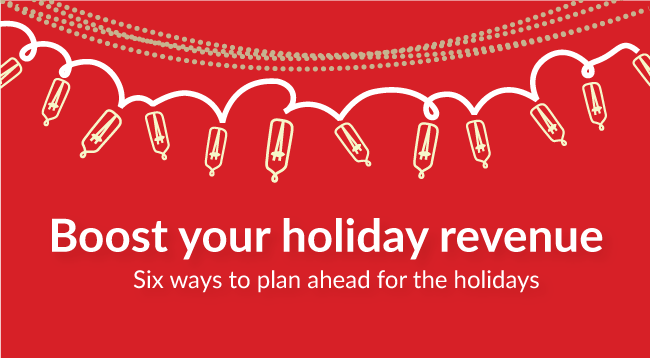 It's that time of year again. The holiday season. The shopping season. Holiday madness!
Call it what you will but the most lucrative and busiest time for many businesses is just around the corner.
The National Retail Federation is expecting retail sales to reach a whopping $655.8 billion this holiday season. And the average American is expected to spend $935.58 on themselves, friends and family.
So let me ask you. Are you ready to capitalize on this huge revenue opportunity for your business?
Savvy online retailers and marketers are already gearing up for the holiday season, with most brands expected to increase their email volume by up to 50%.
With so much additional email hitting your customers inboxes, you really need to have your game on if you expect to get noticed and drive sales for your business. Ideally you should already have your ducks in a row, but if you've fallen behind schedule, never fear as there's still time to get yourself organized.
So let's look at some of the things you can do right now in order to plan ahead and maximize revenue this holiday season.
Make sure your lists are up to date
Email marketing in the holiday season is all about timeliness. So don't let yourself get slowed down with list management tasks. Do all you can now to ensure your list is squeaky clean for your first holiday email campaign. Remove permanent bounces, delete duplicates, and conduct campaigns now to get as many confirmed email addresses in your list as possible. Plus if you're plagued with inactive subscribers who haven't opened your emails in a while, try waking them up with some targeted emails to prime them ahead of the holiday season.
Get your customer segmentation in order
To maximize your revenue opportunities, it's essential that your email marketing is highly relevant and personalized to each of your customers. You can only achieve this with customer data that allows you to segment on things like demographics, purchase history and customer value. Unfortunately this isn't the sort of thing you can whip together last minute. So make sure your customer segmentation is in order now while there's still time.
Set a schedule around key dates
There are 10 key dates this holiday season where consumer activity is expected to peak. That's a lot! Start preparing now by adding the below dates to your marketing communications calendar. Work out how many emails you're going to send, when they need to be built, and when they're going to be sent. Remember too that list fatigue is a real risk this time of year. So look at your email schedule holistically and make sure you're not over-emailing your customers.
Choose a mobile-friendly email template
You may not have your email content ready just yet. But you can definitely plan ahead by choosing your email template now. Last year, 48% of web traffic and up to 76% of Black Friday and Cyber Monday emails were attributed to mobile devices. So it's super important for your website and emails to be responsive and look sharp on mobile devices. Save yourself the hassle of coding responsive emails by choosing professionally designed and mobile-friendly holiday templates from Vision6. They'll look great across all devices and can easily be re-used for all your holiday email campaigns.
Do your A/B testing now
If you've got new tactics in mind for your subject lines and call to actions, do the A/B testing now in order to leverage the full benefits during the holiday season. Even if you decide to conduct further testing later, at least you'll be starting from a better place with your emails already on their way to being optimized.
Leverage what you already know
By now you may be cringing at the prospect of all this extra work. But the good news is that you're probably in better shape than you realize. If you've been leveraging email to promote your business and engage with customers throughout the year, then there's already a wealth of information in your reports to help you optimize your emails for the holiday season. And for those of us who are time poor, remember you don't always need to reinvent the wheel. Look at what's worked in the past with your content, designs, call to actions, subject lines etc, and see what can be applied to your emails over the holiday season.
There's a lot to be done this holiday season. But do yourself a favor and start planning your email marketing now in order to maximize the revenue opportunity for your business.