Using the right images in your email design is crucial for making an impact with your readers. They will help capture attention, drive action and ultimately lead to more sales from your emails. If you can share a relevant, evocative, powerful image with your readers, you might even find them sharing it with their friends and family.
We've got access to some amazing technology (like phones) that can already take stunning photos as well as extensive stock image libraries, but the next step for a lot of us is "How do we use these in our emails?"
If you're only making small adjustments to your images, you're in luck as most of the leading email marketing software providers like Vision6 come with in-built image editors. Whilst pretty basic, they're great time savers as you can do things like crop, resize and overlay text all within the one application.
If you need more but can't find the budget or time for Photoshop, there are plenty of free online editors to help get your images just right for all your digital marketing needs. Check out some of my favorites below.
Pixlr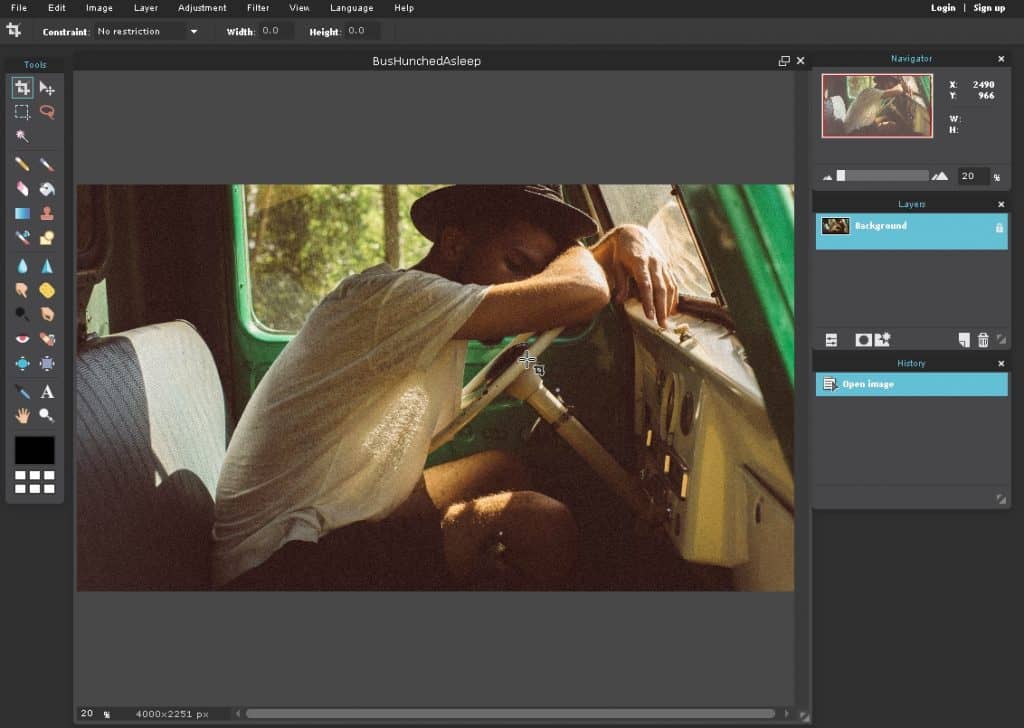 Pixlr allows you to edit, adjust and filter your images and has many of the same functions as Photoshop. In fact, it even uses the same keyboard shortcuts! So Photoshop users will feel right at home with this popular online editor.
It has a nice clean interface and you can upload images from your computer, via a URL, or even directly from your Facebook account.

Only need to make some small changes? Pixlr also has an express application that allows you to crop, resize, add effects, text and stickers.
Photoshop Express Editor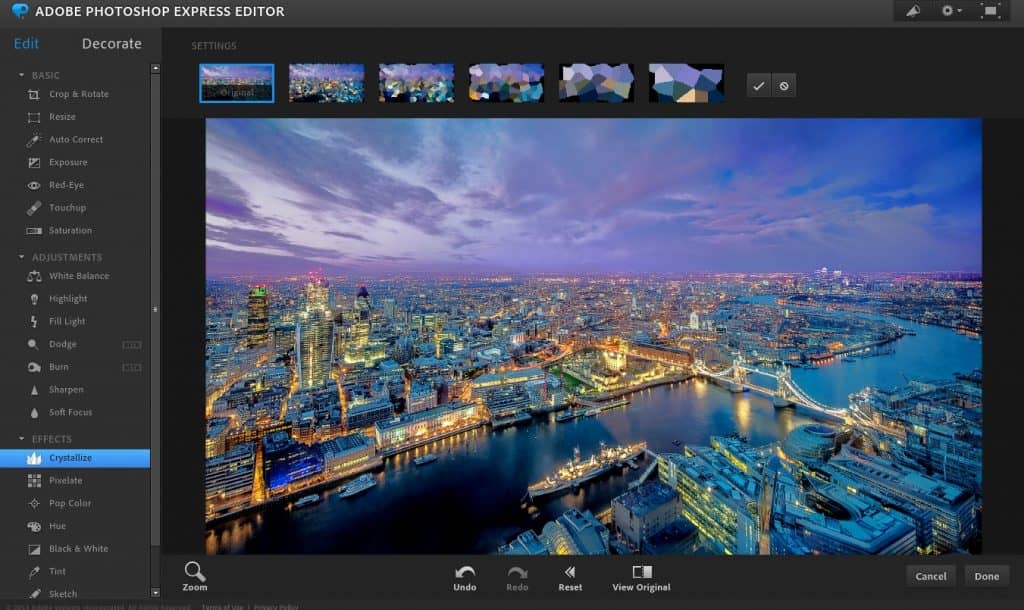 Adobe provide this as the most basic (but free!) version of Photoshop. Even though the features are scaled back, it's perfect for iOS and Android, making it helpful for when you need to work on the go.

Adobe have really focused on the fine image adjustments and included a few interesting effects too, but they've cut any text editing features. If you've got truly scenic, beautiful images you need to make pop, this might be the tool for you. 
Canva Photo Editor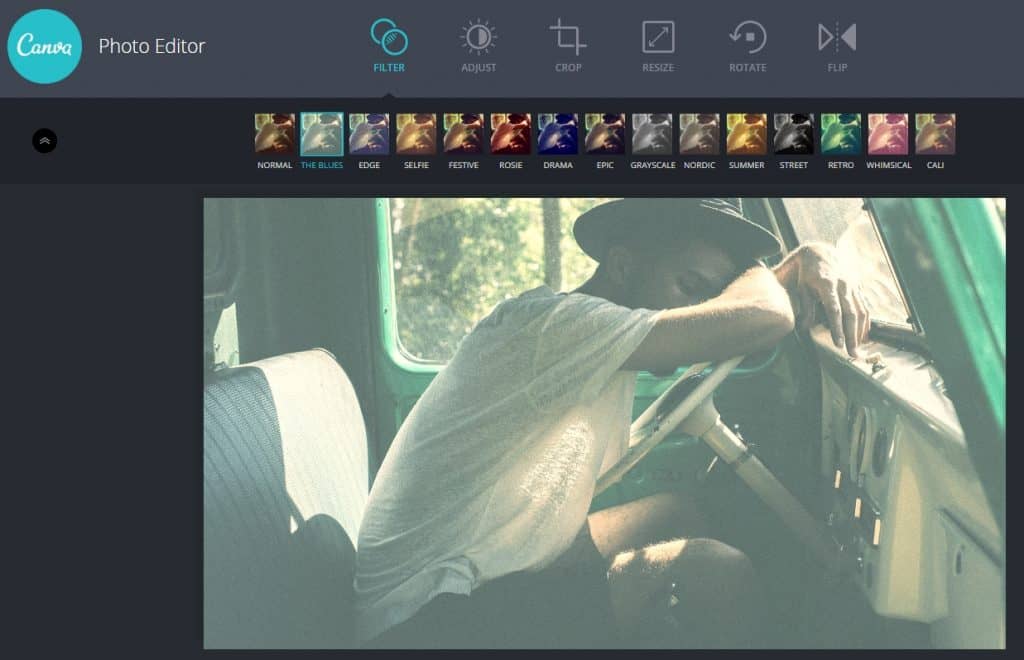 Canva are a big deal when it comes to quickly creating beautiful images for your digital marketing and email campaigns.

Even though the photo editor is super simple, it's worth mentioning that Canva is an important part of our toolkit here at Vision6. Exploring the full application outside the Photo Editor, there's some great templates to start with and easy ways to start formatting text and graphics.
Canva might be our favorite one-stop website for digital marketers who don't have much time.   

SumoPaint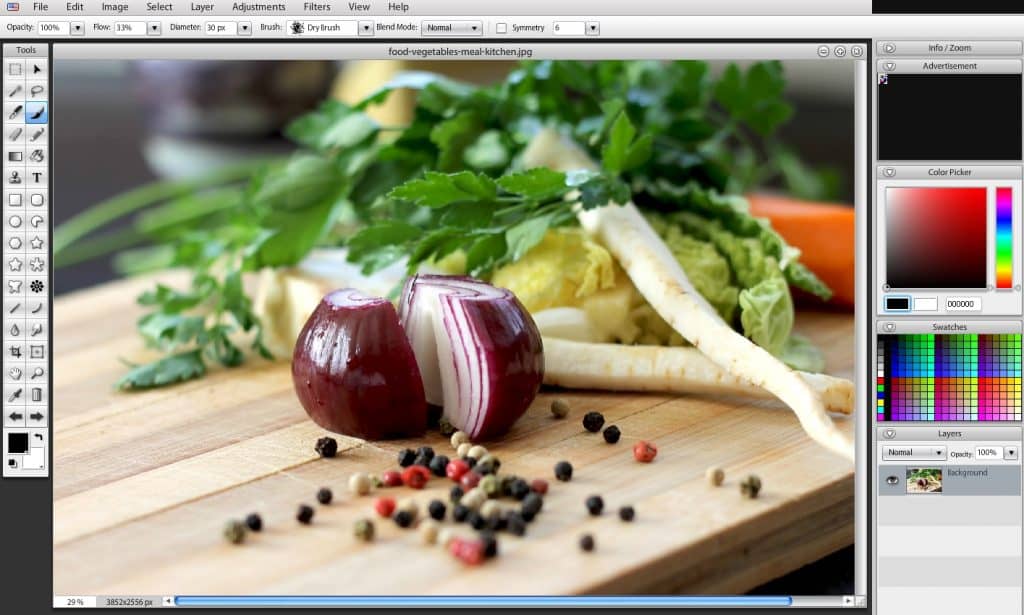 SumoPaint is great for both image editing and drawing, like an amazing mash-up between Photoshop and Microsoft Paint on steroids. It has a smooth user interface and is very fast which is great for working with images on the fly.
Sumopaint has a robust feature set, plenty of effects and some really powerful line and shape tools. If you need to draw, paint or create design elements, this might be a winner. 
Editor.Pho.to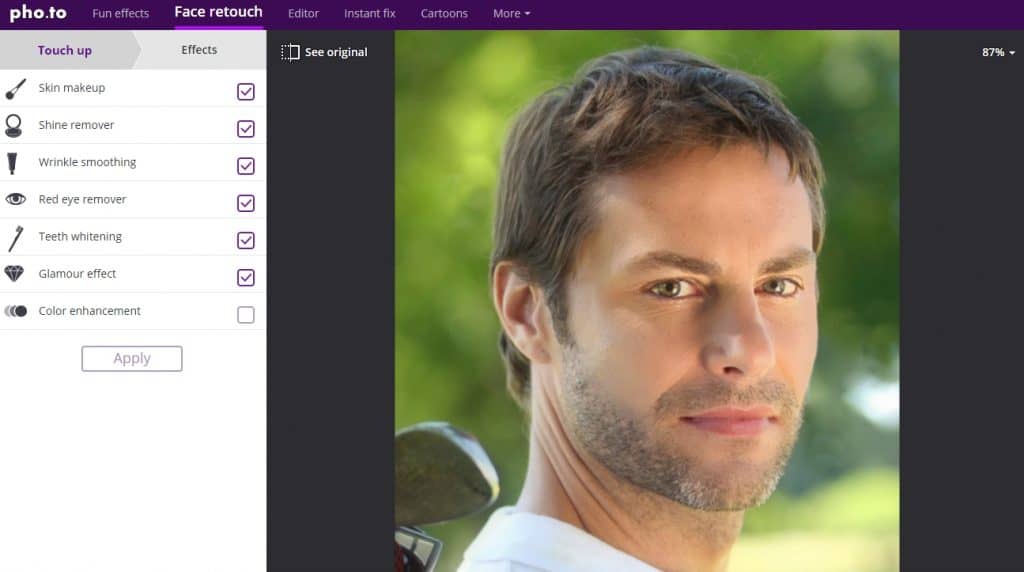 Pho.to is a very interesting suite of tools with emphasis on portrait photography. Alongside their robust photo editor (scale, resize, picture effects), Pho.to have separate applications for automatically fixing head shots, creating a cartoon look as well as some bizarre special effects.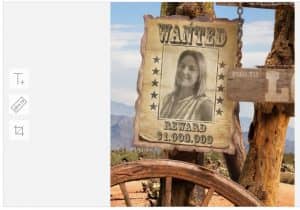 If you're after something fresh and unusual, Pho.to certainly has a lot to look at.
Pizap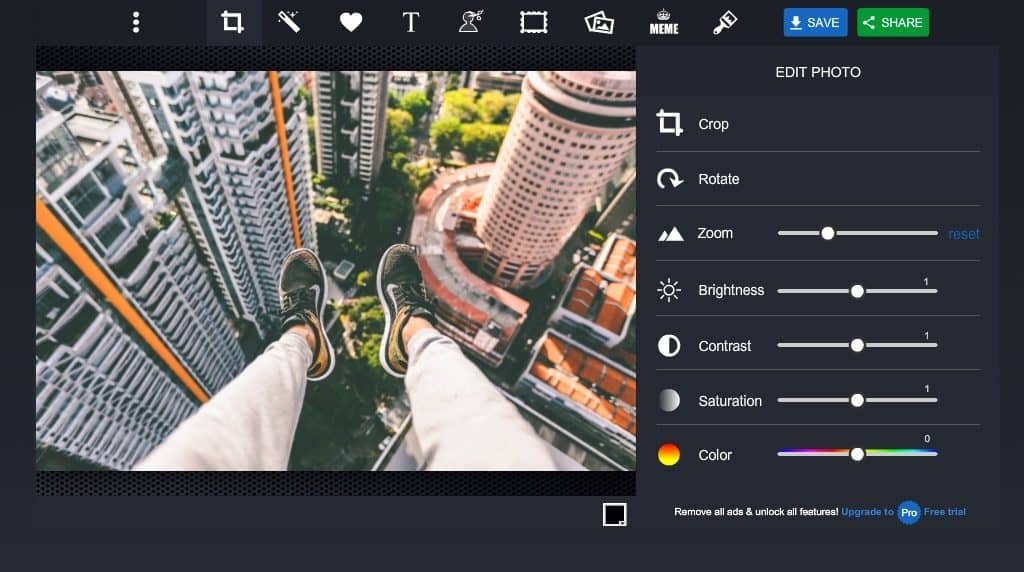 PiZap allows you to have some fun with your images by adding speech bubbles, stickers, cut-out faces, effects and more. It's very easy to use and is particularly useful for building your images into a collage.
FotoFlexer
FotoFlexer claims to be the world's most advanced online image editor. It's a big claim but there is a huge range of effects, fonts, shapes and advanced features. So arguably the hype is justified.
Personally I don't find the interface as neat as Pixlr. But if you're looking for broad and advanced features, then FotoFlexer is definitely worth a look.
Phixr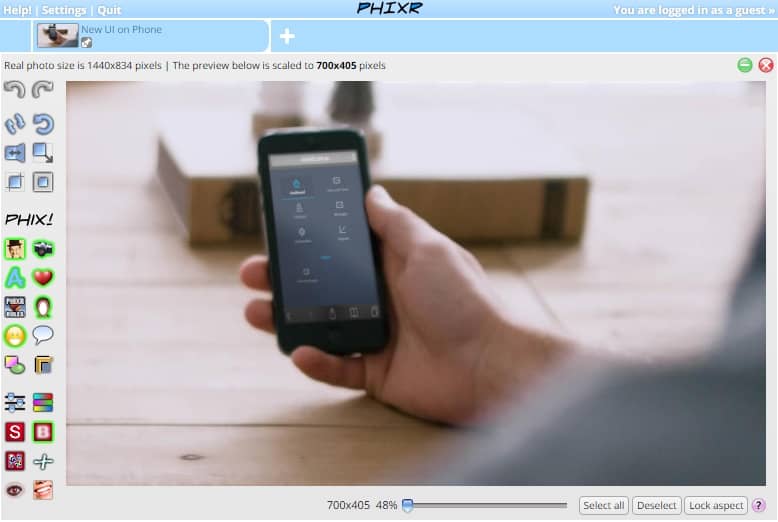 Phixr is a simple online image editor. It's got a simple, fun interface that's really approachable for the less Photoshop-savvy. You can do basic things like crop and resize but I also appreciate seeing my width and height displayed in pixels for easy reference.