I like to keep an eye on the latest email marketing trends so I've probably signed up to more email newsletters than I could ever read. But every now and again a competition email will pop up in my inbox that I can't resist.
In my experience as both a marketer and a consumer, competition emails are a fantastic way to increase engagement, grow your audience and promote your brand. So what makes a successful competition email?
Know your audience
Make sure you offer a prize that your audience actually wants. In this example, Fairfax Media targeted digital designers with a trip to Texas for an industry conference and a $30,000 digital advertising budget. Amazing, right?
Here are some ideas for prizes you could give away:
Aspirational experiences that money can't buy
Cash prizes (this is a less targeted approach but may introduce your brand to a wider audience)
Industry-specific prizes (more targeted approach)
Random draws or sweepstakes (charities often prefer this method as it supports fairness)
Set the rules
Running a competition involves more than just giving away a great prize. You must comply with your state's legal requirements depending on where you are running the competition. Legal Vision have published a handy fact sheet that outlines everything businesses need to know when running a competition.
The Fairfax Media competition homepage in the example above includes a comprehensive 38-point terms and conditions page to make the rules crystal clear. Your competition may not be as complex as this example, but it is important to communicate whatever conditions you have to avoid any confusion down the track.
Make it easy
While you may require competition submissions to be of a high standard, the entry process itself should be as easy as possible. Make sure your call-to-action is prominent and enticing.
For example, EMSA gave away a $1,400 Kintech Cruiser one year to promote the event – their email was simple, yet effective. Once your audience clicks through, make sure your entry instructions are clear and uncomplicated – if it's not easy to enter, your audience won't bother.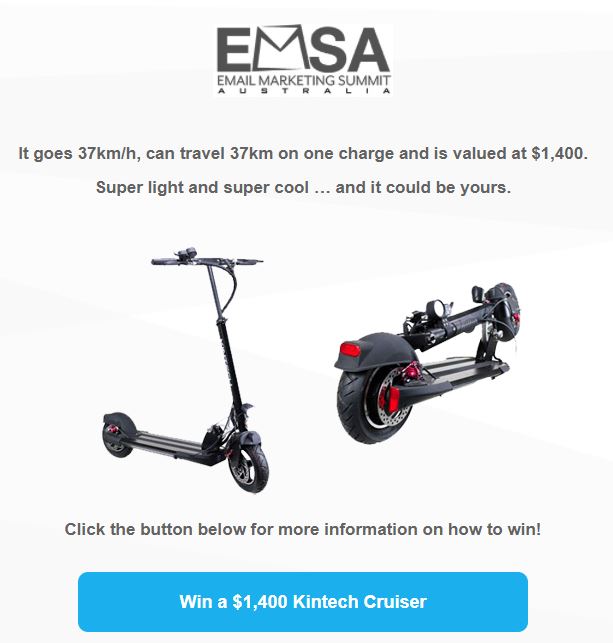 Set the pace
Competitions work best when they have a sense of urgency. Including an end date in your competition email not only makes the judging process easier, it will also increase the likelihood of people taking action as soon as possible.
Another great tactic is to send a reminder email as the date draws closer. Segment your audience into those who opened your email but didn't click through – perhaps a nudge in the right direction is needed to encourage them to take the next step.
Get interactive
Depending on your creativity (and budget!), there are some great ways to boost engagement with your competition. Think apps, games, virtual reality or a real-life experience such as a treasure hunt.
Dominos in the UK demonstrated a simple way to encourage interaction with email campaigns by allowing recipients to click through and discover their new pizza range. This could easily be adapted into a competition by asking recipients to vote for their favourite pizza to go in the draw to win.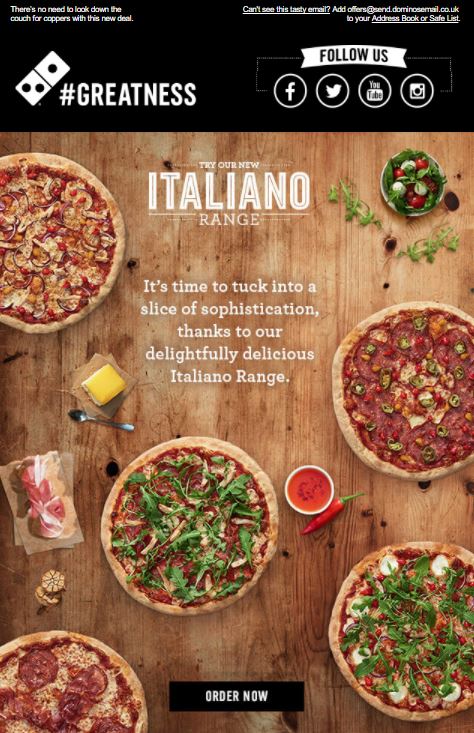 Share the love
I'm going to go out on a limb here and assume you want as many people as possible to enter your competition. One of the easiest (and cheapest) ways to reach a broader audience is to encourage and facilitate sharing via email and social media.
Deliveroo recently notified their database that they're giving away double passes to Laneway Festival, encouraging entrants to head to their Facebook page and tag a friend. Not only does this put your brand in front of new potential customers, but you can grow your custom audiences in Facebook with new people who have interacted with your Facebook page.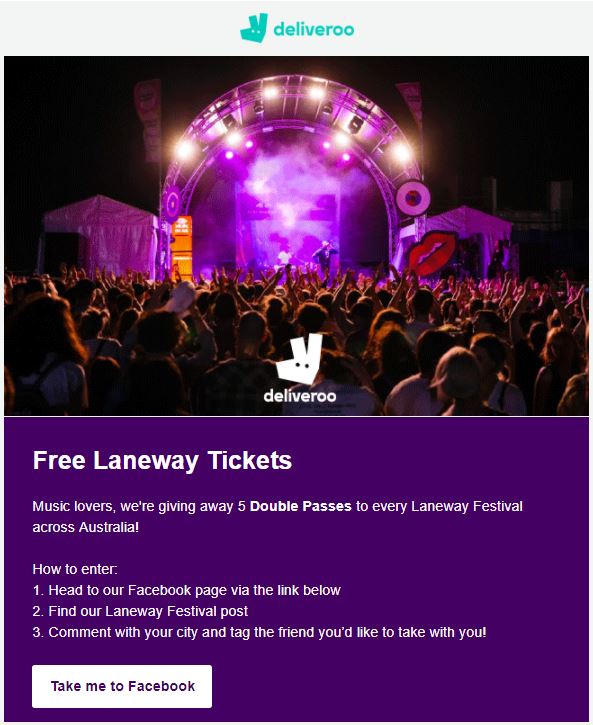 Anyone could win
Many people hesitate to enter competitions as they feel that they are unlikely to win. Increasing a potential entrant's perceived chance of winning is quite easy. In your email, draw attention to any 'runner-up prizes' you are going to award. For example, this Nivea competition offers 50 Nivea Prize packs as well as the main prize of a trip to New York.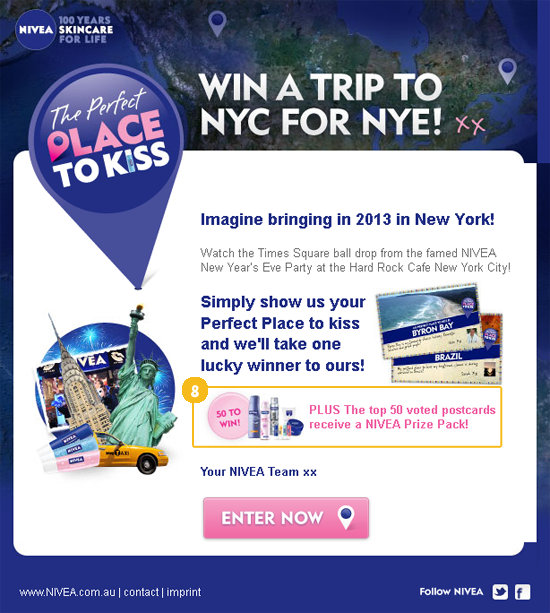 Results
Once the campaign is over and you've given away your prize, it's important to evaluate results. What were your KPIs for the competition? Traffic to your website? Increased awareness for your brand? Make sure you use your email marketing platform's reporting tool alongside Google Analytics or social media reporting tools to get the full picture for how your competition performed. How could this be improved next time? Hopefully this blog will give you new ideas to test out and help you to brainstorm your own ideas for your business.
Have you run a competition for your customers recently? Or have you entered somebody else's competition? If you have any examples of great competition emails please share them by including a link in the comments section below.