Does email marketing stand a chance against Facebook? Well, games of chance are all about the numbers, so let's take a look at them.
Current Users
It's true that Facebook has absolutely exploded since its launch in 2004, but just how big is it really? With 2.23 billion active monthly users worldwide (that's nearly one third of the world's population), it's not something to scroll past. But email definitely has a few good years on Facebook, and hasn't exactly been lazing around since its conception. And don't forget, for a long time users weren't able to create Facebook accounts without already having an email account. So how many email users are there today? According to a 2018 study from The Radacti Group, there are a massive 3.8 billion email users worldwide.
Facebook Users: 2.23 Billion
Email Users: 3.8 Billion
THE FIRST ROUND GOES TO: EMAIL MARKETING.
Daily Usage
With such eye-wateringly high user numbers, it's no surprise that the actual platform usage numbers are quite high too. As a matter of fact, Facebook has recently released tools to limit how much time users spend on the app to try and address the negative effects of overuse. In one day, there are 422 million status updates, 216 million messages sent, and 72 million shared links, totaling 710 million social share activities a day. That's a lot of talking. But email talks the talk and walks the walk, with a seriously respectable 281 billion emails sent per day. For dramatic effect, if we convert that number to physical mail, the envelopes end-on-end could reach the moon and back 78 times.
Social Sharing Actions Per Day: 710 Million
Emails Sent Per Day: 281 Billion
THE SECOND ROUND GOES TO: EMAIL MARKETING.
Reach
Facebook's business model relies on businesses spending money to reach their own fans. So it's not surprising that with each algorithm update, the organic (unpaid) reach of business pages often takes a dive. Facebook's organic reach has dropped from 16% in 2012 to as low as 2% in 2018. Businesses spending time, money, and effort in amassing a fan base, and then still having to pay to talk to them continues to be the source of plenty of "I'm done with Facebook" rants from frustrated page managers.
Emails arrangement is very different. Things like algorithmic reach throttling aren't an issue with email. Instead, email reach is affected by deliverability. The global average delivery rate of email is approximately 85% for 2018, and is trending upward.
What this means is, if you have a Facebook page that has 50,000 likes, your latest post is likely to be placed in the newsfeed of approximately 1,000 to 3,000 of your own Facebook fans. If you sent an email to a list that same size, it's likely to be placed in 42,500 inboxes.
Facebook Organic Reach: 2%
Email Delivery Rates: 85%
THE THIRD ROUND GOES TO EMAIL MARKETING.
Want to increase your email deliverability? Try these 7 strategies!
Click-Through-Rate (CTR)
Reach and impressions are important to a marketing campaign, and we've seen that email has serious credentials in those areas. But what about the next stage? Which platform is better at stirring users to actually click on your marketing message? Facebook ads achieve an average CTR of 0.90%, which means for every 1000 impressions, 9 should get a click. Based on Vision6 usage data, email enjoys an average CTR of approximately 5.86%. Which means 58 clicks for every 1000 impressions. In the graph below, you'll find average email click-through-rates for a number of industries, generated from Vision6 usage data.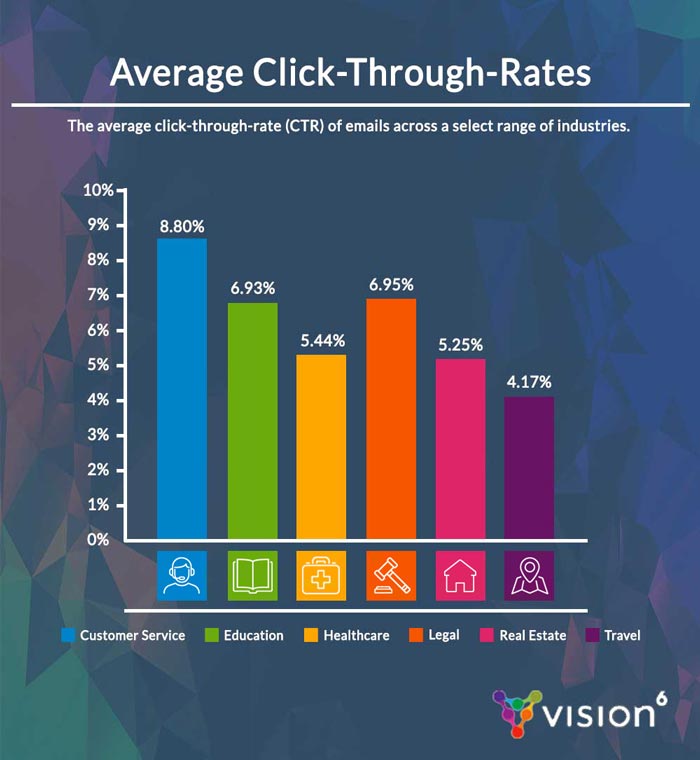 Don't see your industry listed above? We've got even more information covering 27 different industries in our Email Marketing Metrics Report.
The graph below shows a side-by-side comparison of email and Facebook Ad (as reported by WordStream) click-through-rate benchmarks across a select number of industries.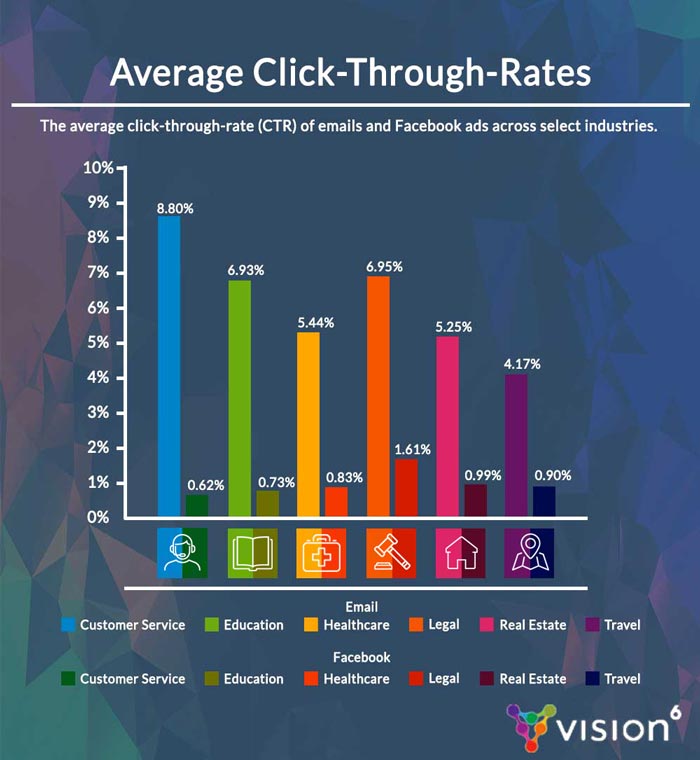 Facebook CTR: 0.90%
Email CTR: 5.86%
THE FOURTH ROUND GOES TO: EMAIL MARKETING.
If you're looking to increase your email click-through-rate, we recommend following this guide.
Purchases
It's true that spammy sales emails invading our inbox is an annoyance we've all experienced at one point or another. So you might be surprised to find that email can be a remarkably effective driver of purchase. As a matter of fact, email has been found to generate more conversions than any other marketing channel, with 66% of consumers stating that they've made a purchase as the result of email marketing. Those who have made a purchase after viewing a Facebook ad came in at 20%.
Facebook Marketing Resulting in a Sale: 20%
Email Marketing Resulting in a Sale: 66%
THE FIFTH ROUND GOES TO: EMAIL MARKETING.
So Should Email Marketing Replace Facebook Advertising?
Not at all. The key to a winning marketing campaign is appreciating the role each channel plays, and achieving a balance. While email definitely has its strengths, Facebook advertising does have its advantages, being a good driver of awareness, engagement, and shareability.
If you've got the budget, Facebook advertising is a great starting point to drive new traffic to your website. Whereas email is a great clincher that comes in to drive conversions, leads, sales, and retention.
Start your next knockout email campaign with a free Vision6 account.