Let me take you back to a time in the late 90's. A time when I was starting my career in the marketing and events space. A time when event attendees sent their registration forms in by fax. A time when attendees were manually entered into event management systems (using some clunky desktop based events system). Eeeeek!
I think most people would agree that using email marketing makes running events much easier – it's that simple!
The team here at Vision6 have run the annual Email Marketing Summit since 2006 and over that time we've learned a thing or two about email marketing for events. I'm constantly surprised by how much time automating emails can save.
So today I wanted to share this simple event marketing automation blueprint that we use all the time. It's a great starting point for your own events, although you'll need to work out what timing suits your email. Hopefully this will free you up to spend more time organising a fantastic event and less time doing tedious and repetitive tasks.
Automating event marketing
You can have these emails with automation triggers in place as soon as you kick off your marketing. This way you know that the right emails will go out at the right time.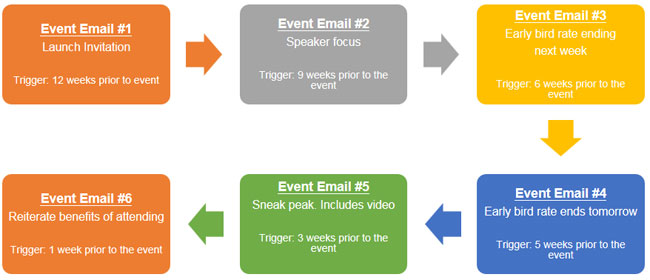 The key is to be flexible and change content as you go along. For example if you find something is resonating better and getting you more conversions include similar approaches in future emails.
Automating attendee management
When it comes to the attendee flow it's all about making sure they have the right info and add the event to their calendars.
It's also important to continue the momentum and keep attendees excited about coming to the event, which will in turn prompt them to share with their own networks.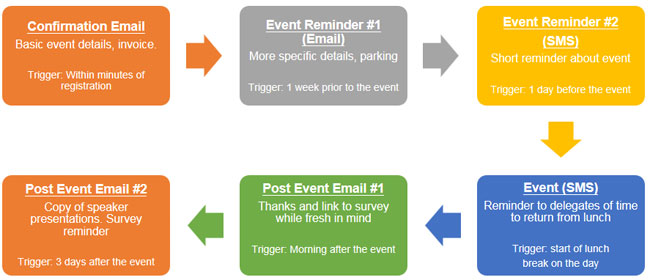 What is the one thing all event marketers hate? No shows. I've found that triggering an SMS one day prior to the event significantly helps reduce the amount of no shows at your event. Yay!
Having your triggers set up for your post event communications means that attendees get sent event surveys when the event is still fresh in their mind.
In my next blog post I'm going to cover off how you can use marketing automation to increase brand engagement at events. This is especially important for those marketing professionals of us that sponsor events and are looking to get the maximum amount of exposure for our marketing budgets.

Posted by:
Belinda Walsh
Marketing Manager