Ready for a day of fun, creativity and teamwork, Vision6 embarked on our very first Hack Day to kick off the holiday period. It was an amazing success, with everybody having a great day, not least of all the Managing Director, and co-founder, Mat Myers.
"It was my favourite day at Vision6 in almost 20 years."
Hack Day is a big deal at Vision6. We bring together employees from all of our different departments to join in exploring new ideas and developing the blueprint for projects that might shape our product in the future.
Such a fabulous day doesn't just happen and big thanks need to go to Product Manager, Matthew Johnson, and his team of volunteers, who started organising months ago.
"Planning is key when you're doing an event like this. We were taking our whole team offline for an entire day, so it had to be well organised."
And we truly did take our whole team offline, including our international team members in Manila and New York (who's incredible effort had her up until after 2 am).
For the rest of us, the excitement started weeks before with a competition to design the official t-shirt for the day. The winning design was a super cute shirt by our gifted Product Trainer, Andy, but there were so many great designs put forward that a staff vote was needed to decide the winner.

After that, the lead up to the day was a flurry of possible project ideas being shared and teams being formed. There were so many great ideas put forward that, by the day we had six teams ready to work on six unique and creative projects. Plus we noticed that teams were being built around expertise, meaning groups who didn't normally get the chance, were working together.
Then the big day arrived.
Before we'd even begun hacking, our first Vision6 Hack Day started with a fun and out-of-the-box icebreaker, an idea from one of our developers, Adrian. We were quizzed on Vision6 trivia by Google herself!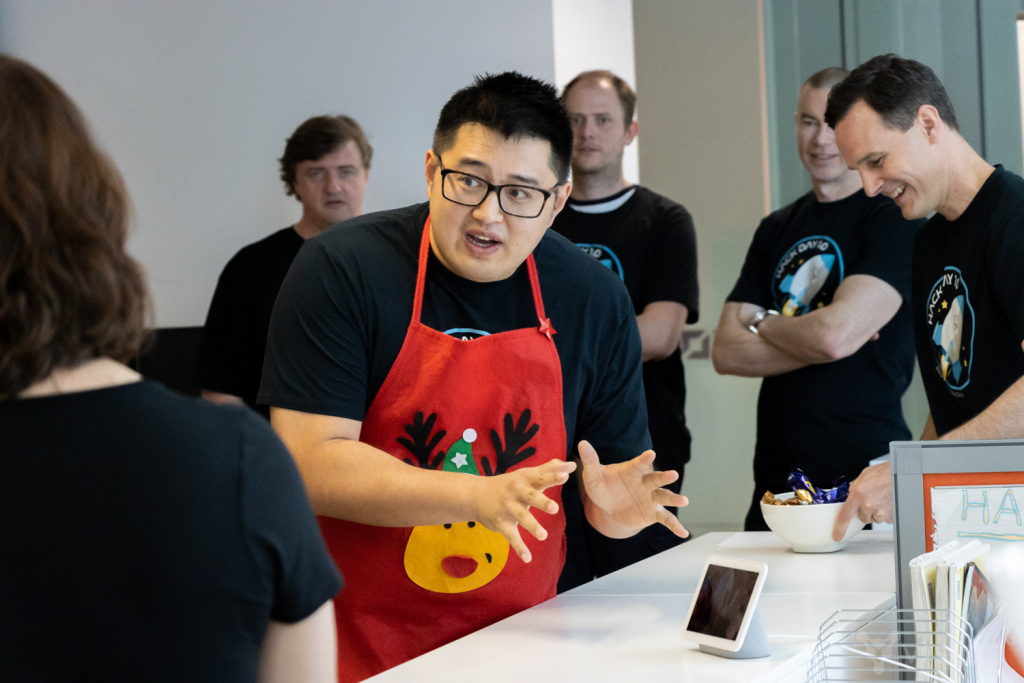 Then, with the promise of coffee to come, we were sent off to start hacking.
The excitement started to build as the music started, groups began chatting and the coffee arrived. Time flew by and after a few hours, we had to drag ourselves away for sustenance, in the form of pizza. The kitchen was full of enthusiastic chatter, as teams discussed their projects. Some were even too excited to stop, having pizza at their desk while they hacked on.
The afternoon also disappeared in a blur and then it was time for the presentations of the projects.
All six put forward great presentations, my favourite being the virtual reality game, closely followed by the light warning system (see the video to see them in action). And my real favourite, the project I was on predictive deliverability. The day wrapped up quickly, as it was time to head off to our Christmas party, where the fun would continue and the winners would be announced.
After a torturous wait as people slowly filtered into the venue, the winners of the first Vision6 Hack Day were announced by the organiser and Product Manager, Matthew, while managing director Mat, finished up by saying he was "truly humbled, inspired and proud by the creativity, commitment and genuine teamwork during the day. It's proved that we work in a company full of great people with great ideas who are willing to help each other no matter what the cause."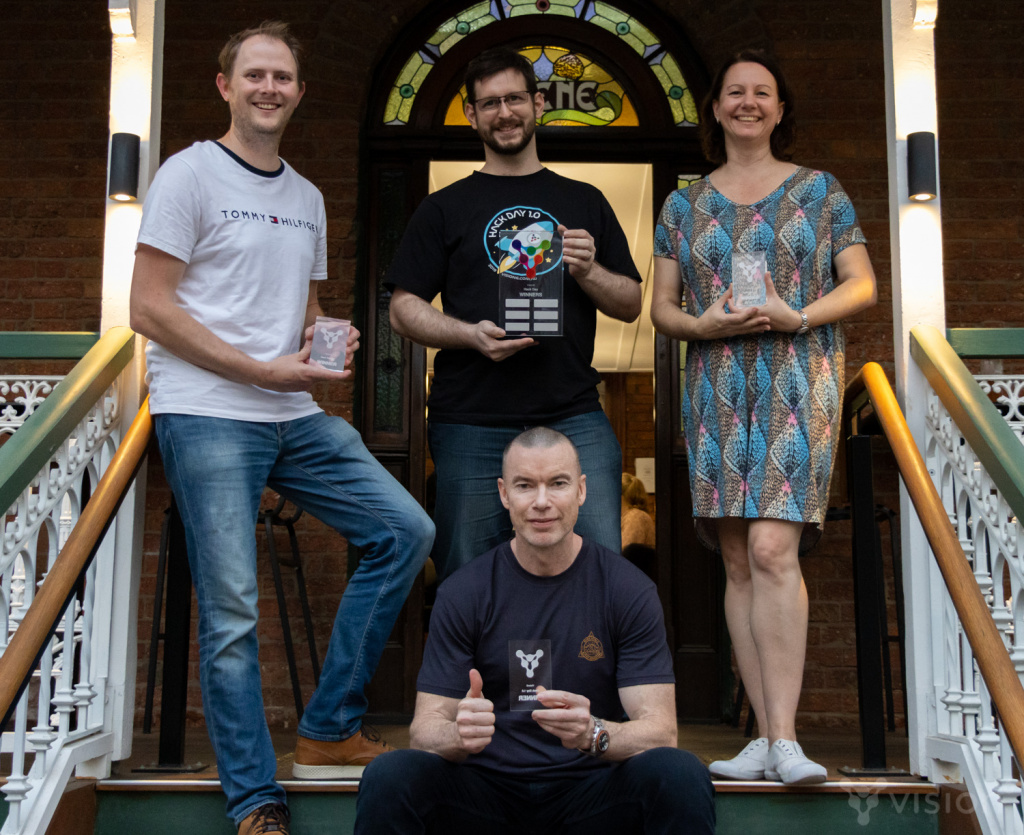 So many things were accomplished on the day, team building, creative thinking and six great projects that will prove useful to Vision6.
Congratulations to the winners from the day and to the hard-working Hack Day team, lead by Product Manager, Matthew, who took the day from idea to reality.