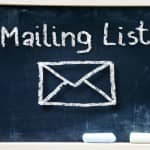 Growing your email list is such an important goal for your business.
It's kind of obvious but having more subscribers on your list means you'll be emailing more people and therefore able to generate more leads and sales.
But what's interesting is that list growth often gets chucked in the too hard basket. And I get why, the phone rings, people are coming in the door, emails need to be answered.
It can be hard to find the time to work towards growing your business when your days are already jam packed.
But growing your email list needn't be a time consuming, laborious task. Today I am going to share with you 24 easy ways to get more email subscribers.
A lot of these things can be implemented in under 5 minutes. So I'd like to challenge you, don't just take my word for it, pick one of the tips below that you're not already doing and implement it today.
Make the most of subscription forms
1.    Add a form to your website. Businesses that have a subscribe form on their website average 193% more email subscribers than those who don't. 
2.    Make all of your subscription forms really simple to fill out. Don't ask for any details you don't need as this can create roadblocks for potential subscribers. 
3.    Place your subscription form prominently on your website – don't make it hard to find!
4.    On the topic of forms, if you have other forms on your website such as contact us or request a quote forms include a tick box to receive your newsletters.
5.    Include a link to your subscription form in employee email signatures.
Offer something of value
6.    Offer educational resources in exchange for email addresses. Create an e-book, tutorial, white paper, checklist or infographic.
7.    Offer a coupon or discount for people who subscribe to your newsletter.
8.    Offer a series of emails or videos that are available for subscribers only. Create content that will make people feel like they have to sign up or they will be missing out.
9.    Hold a competition and have people submit their email address as they enter. Be careful with what you offer as a prize though because almost anyone will enter a competition to win an iPad. You want to attract quality entrants who are genuinely interested in your business. 
10.    Host a webinar or online event and include a tick box to receive marketing emails during registration.
Offline opportunities
11.    Collect emails at point of sale while you're top of your customers minds. This is a great time to engage people.
12.    Ask for emails during customer calls. Just make sure it's clear you'll be adding them to your email list.
13.    Ask people to sign up to your email list at trade shows, industry events, conferences or exhibitions.
14.    Use mobile technology and apps such as email clipboard, which allows you to send email addresses directly to your Vision6 account, remember you still need to get your subscribers permission to use their email address.
15.    Create a QR code that links to your subscription form and place it on printed marketing collateral like brochures, fact sheets and leaflets.
Leverage your social media networks
16.    Place a form on your business's Facebook page to collect email addresses. If you've already got a form on your website this will take less than a minute to set up!
17.    Promote your newsletters to your social networks and ask them to sign up. Be careful, you don't want to over do this to the point of annoying your followers.
18.    Repurpose content from your newsletters on your blog and social networks. Use this to create interest in your newsletters and to encourage people to subscribe.
19.    Don't forget to always have a link to your subscription form on the 'about' section of your social media pages.
Create shareable content
20.    Add social sharing buttons to your emails to encourage readers to post your emails on their own social networks.
21.    Include a send to friend link so that it's simple for people to forward your email on.
22.    Explicitly ask your readers to share your content if they find it valuable.
During the purchasing process
23.    Invite people to subscribe to your newsletter when they purchase from your online store during the checkout process.
24.    Don't forget about transaction emails. Add a link for people to sign up for your email newsletters to the bottom of receipts, invoices and delivery notifications.
Always get permission to use email addresses for marketing purposes
It's really important to note that with all of the above suggestions, you need to be explicitly clear about what you'll be using people's email addresses for.
It isn't about being sneaky and collecting emails without people realising, it's about creating opportunities to encourage people to willingly sign up for your newsletters.
Have I missed any other great ways to grow your subscriber list? Please share any tips you have in the comments section below. Additionally, I'd love to know if you accepted my challenge and which tactic you're going to implement?